by Pablo Godel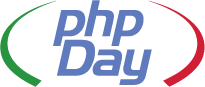 Last week I returned from Verona, Italy where I spent a full week with some of the best Javascript and PHP developers out there. I've been wanting to go to phpDay for a number of years so when I was invited to present a talk about Symfony2 and MongoDB, there were no more excuses, I had to be there!
I arrived in beautiful Verona a few days before phpDay, so I was able to attend jsDay, the Javascript conference that was being held just before phpDay. There were many interesting talks, but probably the highlight of the event was Douglas Crockford's Programming Style and Your Brain. Douglas is the author of the book "The Good Parts of Javascript", developer of JSLint and was involved in the development of JSON. His talk was insightful, funny and direct to the point.
One thing that struck me while attending jsDay is that JavaScript developers suffer from a lot of similar woes that we PHP developers do. The fact that JavaScript is easy to use and get started with, means that a lot of code is ugly and hard to maintain, so naturally many of talks focused on patterns and ways to structure your JS apps for future growth. I also discovered that pure JS coders really don't like CoffeeScript, which really makes sense if you think it more throughly.
When jsDay was done, the JS developers left and PHP ones arrived. It was nice to find some familiar faces. It was also great to be able to meet several of the ServerGrove Italian customers, I really like to put faces to names and to be able to get direct feedback from our clients.
phpDay started with Zeev Suraski's keynote about PHP on the Cloud. From there, talks divided in three tracks, so it was hard to choose from. I really liked the talk about Taming the Twitter Firehose imparted by Lorenzo Alberton, Chief Technical Architect at DataSift. It is always great to see how companies deal with large amounts of data always using open source technologies. Then, before the day was over, it was my turn to talk about Symfony2 and MongoDB. The room was packed and hopefully people were able to see what great combination are Symfony2 and MongoDB to build Web Apps. You can view the slides here and if you were in the talk, please leave feedback on Joind.in.
When the talks were over, I was fortunate enough to be part of the Speakers Dinner. The organizers took us for a bit of sightseeing up to the top of the Lamberti Tower, where the view of the city was absolutely spectacular. After going up and down the stairs, we were ready for dinner, and you know when you are in Italy, this will be one of the best parts of the day! And it certainly did not disappoint.
On the second day Rasmus Lerdof, creator of PHP, opened with the keynote. I've seen this talk several times and is full of great historical information and pointers of where PHP is going, and even though I had heard it before, I still enjoyed it.  Lots of talks followed. I attended the workshop on how to create PHP extensions which gave a nice introduction and overview on the internals of PHP and its extensions. The conference finished with David Collier's talk on Taking it to the next level. David is a great speaker and his talk was funny and inspirational. I really like the part where he thanks people and projects that have contributed to PHP's success.
I had a great time in Verona, which included a shaky Saturday night thanks to one the recent earthquakes in Italy. I really want to congratulate and thank all the jsDay and phpDay organizers and volunteers. They do it for fun, for the community and they did it very well! Hope to be back next year!
Arrivederci!